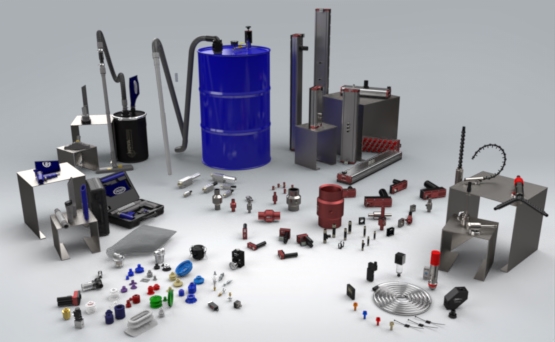 NOVACOM is based in the heart of Europe, in the north of France. The company has been designing, manufacturing, and developing vacuum components for more than 30 years.

As a genuine vacuum specialist and leader on the market, NOVACOM has never ceased to innovate and evolve. The company now has the most extensive line of vacuum components in Europe, meeting the needs of all applications in industrial environments: standard and special suction cups, single-stage, multi-stage, anti-clogging, and pneumatic transport ejectors (or vacuum pumps), air amplifiers, air nozzles, air curtains, vacuum filters, clamping grippers, air nippers, gripping heads, membranes, and other vacuum accessories.
Presence in the field and follow-up

The company has a solid, well-organised structure with an available and attentive team. NOVACOM has no less than eight sales agencies in France and, since 2002, has established an international unit to meet the demands of the worldwide market.

This proximity to our customers allows us to provide them with better consulting services and assist them in defining their projects and finding the equipment best suited to their field of activity.

Our focus is on experience, technical support, and customer follow-up.
Vacuum technology, our know-how

Vacuum handling is a very widely used technique in the manufacturing industry (automotive, agrifood, plastics, pharmaceutical, packaging, printing, etc.). It consists in grasping an object--which may be a piece of sheet metal, a sheet of paper, a finished product, or even a food item--with suction cups or clamps, and carrying it from one workstation to another, or placing it in its packaging, for example.
Suction cups are integrated into a handling device and the vacuum is provided by an automated system which is supplied by generators, ejectors, or vacuum pumps.

This technique allows very quick gripping and handling, even with objects that are fragile or with complex shapes.

A solution for each application
NOVACOM is involved in a multitude of industrial applications in France and abroad.


Handling, lifting, pick-and-place
Packaging
Handling of bottles, flasks, jars, etc.
Routing, printing, labelling, unstacking
Gripping, opening bags, and bagging
Unmoulding, ejection of parts
Blowing, cleaning, drying, cooling
Pneumatic conveyance

Quality is our key concern
At NOVACOM, quality is a key ingredient at each stage of development.
From designing and manufacturing a solution, to its improvement, as well as implementation and verification.

The standard and special-purpose suction cups are offered in more than 10 different materials and have a cryogenic finish, ensuring excellent quality of the elastomer and aesthetically perfect finished products. Our production facilities allow us to make small, medium, or large runs.

Our core values: know-how, precision, responsiveness, and flexibility

An innovative design office
An industrial project cannot be successful without the collaboration of effective partners to ensure its development. Our design office designs and develops custom tooling and applications in total collaboration with the end user and the various parties involved.
NOVACOM is present in over 35 countries around the world, as represented in red on the map below.